Film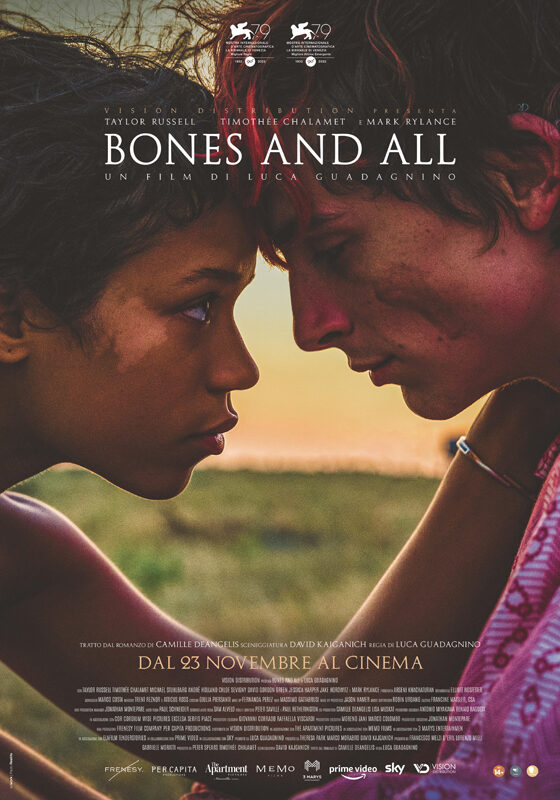 Production
Produced by Frenesy Film Company and Per Capita Productions with The Apartment Pictures - part of the Fremantle group, Memo Films, 3 Marys Entertainment, Elafilm e Tenderstories. In co-production with Vision Distribution in collaboration with SKY
Year
2022
Directed by
Luca Guadagnino
Screenplay
David Kajganich
Distributor
MGM
VISION DISTRIBUTION
Cast
Taylor Russell
Timothée Chalamet
Michael Stuhlbarg
André Holland
Chloë Sevigny
David Gordon-Green
Jessica Harper
Jake Horowitz
Mark Rylance
Synopsis
Bones And All tells the story of the first love between Maren, a young woman who is learning how to survive on  the margins of society and Lee, a loner with a fighting spirit; two young people on the road, in an ever-ending search for identity and beauty, trying to find their place in a world full of dangers which refuses to accept their nature.  
Director's note
There is something about people who live on the edge of society that attracts and moves me. I love these characters. The heart of this film beats tenderly and caringly towards them. I am interested in their emotional journeys. I want to see what opportunities open up for them, trapped as they are in the impossible situations they are dealing with. To me, this film is a reflection about who we are and about how we can overcome our feelings, especially if these feelings inside of us are something that we have no control over.
Last, but not least, when will we be able to recognise ourselves in the eyes of another human being?
Luca Guadagnino